US car manufacturer Ford has teamed up with Agility Robotics to develop a robot capable of carrying packages to the customer's front door. Designed to unfold from the back of a self-driving delivery van, Digit is a two-legged humanoid that can handle lightweight shipments of up to 40 pounds. After learning that the US postal service delivered more than 6 billion packages in 2018, Ford saw an opportunity to alleviate the impact these kinds of services are having on cities and neighborhoods.
Over the past few months, Ford and Agility Robotics have been working on a new initiative designed to assess how intelligent robots and self-driving cars can work in unison to more efficiently deliver items like groceries, packages, and even pizza, straight to your door.
Digit can go up and down stairs, walk naturally through uneven terrain, and even react to things like being bumped without losing its balance and falling over. As humans, we take these abilities for granted, but they become extremely important when engineering a robot to navigate the nuances of various environments.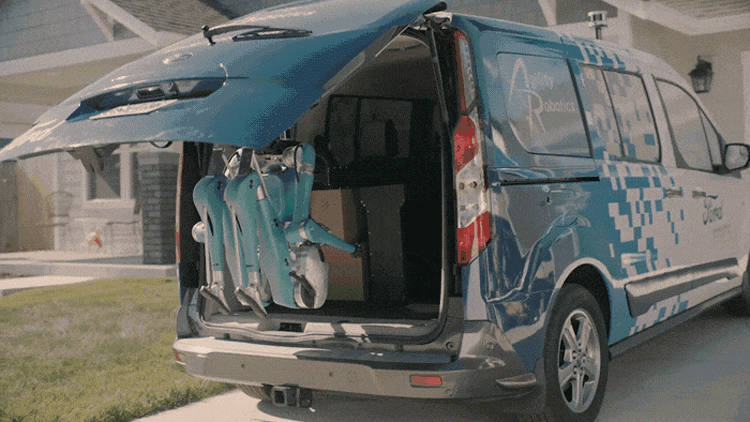 Gaining access to a customer's door often requires walking through obstacles, including going up stairs and dealing with other challenges, which can be hard for robots with wheels to do since only about 1 percent of homes in the United States are wheelchair-accessible, according to the Department of Housing and Urban Development. Ford CTO Ken Washington notes on Medium that Digit can walk upright without wasting energy, so it has no issue traversing the same types of environments most people do every day.
"Since self-driving vehicles can potentially move people and goods simultaneously, they hold great potential to make deliveries even more convenient and efficient. A ride-hailing trip could double as a delivery service, dropping off packages in between transporting passengers," explained Washington.
Digit is equipped with lidar and several stereo cameras to detect its surroundings. If the robot encounters an unexpected obstacle, it can send an image back to the vehicle which then configures a solution. If the vehicle has difficulty processing the information, it can relay it to the cloud and request help from other systems.
Comments
comments