Presented at Maison & Object Asia 2015, Tokyo Tribal Collection is a furniture range designed by Japanese studio Nendo for industry+, a Singaporean design company dedicated to fusing manufacturing with craftsmanship through its proactive collaboration with local industry all over Asia.
This collection features 22 items including stools, chairs, tables, and shelves. To fit the modern urban living environment, the designs have been made simple and the sizes relatively compact. The collection uses solid oak for the main frames and volcanic sand plaster for the top board finishes, in combination with bamboo rattan hand-woven by local artisans in the Philippines.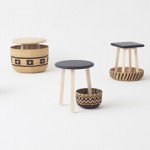 The bamboo's elastic properties make it ideal for such things as back-support. It is also used as a design feature, for instance: the table legs going right through a layer of bamboo, or the entire table itself actually encased in bamboo rattan. Through such details, these pieces seem to meld the concepts of 'furniture' and 'miscellaneous interior goods' into one, in contrast to more conventional concepts of interior design that clearly place greater importance on the former. In allowing for these various products and materials to converge and function together, the conceptual aim is to create a sense of a small and tightly-knit 'tribe', greater and better than the sum of its parts.
all images © AKIHIRO YOSHIDA
Comments
comments