In a city seemingly saturated with coffee shops, where coffee is big business, could there be room for a small, neighborhood-based, owner-operated shop to take hold? Could a space built around the relationship between the customer and the barista make a difference in the cityscape? These were the questions which Rapt Studio set out to answer with their design for the new The Coffee Movement outpost in historic San Francisco's Chinatown.
On an unassuming city street with the distinction of hosting a cable car route, this café – just 300 square feet – is a small space that's turning out to have a big impact.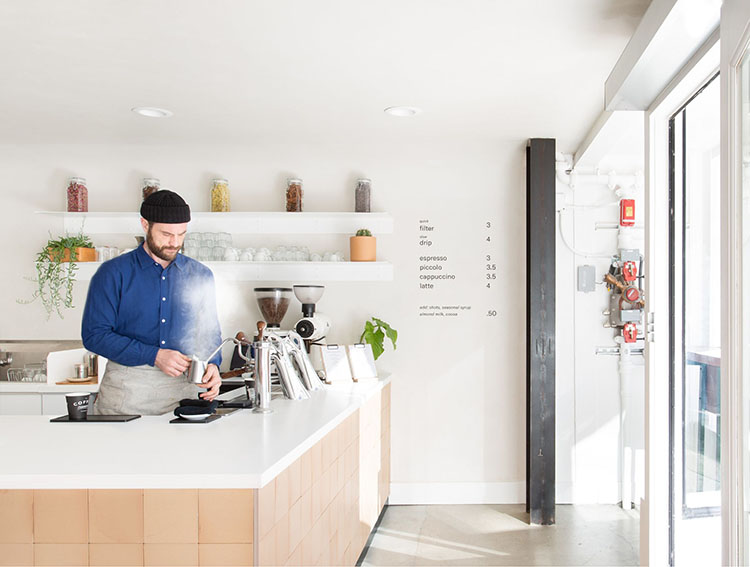 Rapt Studio partnered with owner Bryan Overstreet to realize his dream of serving great coffee, hand-crafted from sustainably grown beans. Bryan's values and personality guided every design decision, leading Rapt to design an inviting, warm, and approachable environment that prioritized human connections. There's no wall of espresso machines and pastry cases between the barista and the customer here, but instead an uncluttered area for meaningful personal interactions, where Bryan can "spread happiness through coffee."
The design of the space is minimal but engaging, and the details are soft and purposeful. The walls are finished with a soft white wash, showing the unique hand of the person who installed them; they turn upward gracefully to the ceiling as if forming an embrace. The bar is a nude terra cotta tile that connotes a humble, raw elegance. Simple shelves hold plants, hand-thrown mugs, and packages of select beans. Copies of the daily newspaper hang from the counter, above which a curated selection of publications on coffee rests, awaiting perusal.
Custom wooden bar-height tabletops feature inlays of corten steel and sit under handcrafted alabaster sconces – a perfect place to perch and watch cable cars whistle by. Benches out front capture the morning sun.
The space, bespoke and decidedly local, is every inch an extension of its proprietor, Bryan, and the relationship he wanted to build with the neighborhood. And the soft palette is meant to encourage more important things to shine – conversation, meaningful interaction, and connections. Perhaps not so surprisingly, this café has already become a meaningful part of the community and a destination all its own.
Comments
comments