Poland-based architecture firm mode:lina architekci has recently completed this singular house located in Borówiec near Poznan, Poland. Made of two blocks with a pitched roof and an asymmetric garage cube, the 'Fence House' is divided in two part in order to let kids go crazy in their 'own house'. The shape of this building was dictated by its function. Household members, parents and two children, wanted to live independently. Hence the idea of dividing it into two parts: the ground floor is in common, while the first floors are separated, so to grant a quiet area.
The street facade has few windows to protect the inhabitants from the noise, while several fences provide a sense of security; that's where the house got its name from. The building is complemented with simple, raw materials such as bricks, concrete and grey metal sheets.
The kitchen is extended into the garden and a large living room with a mezzanine reaches the attic. An unusual feature is the window in the hallway, which exhibits the owner's unique car inside a graphite garage cube. Window openings allow visual connections between the rooms, while big glazing connect the kitchen and the dining area with the garden and the surrounding forest. The living room is a large, open space, with a mezzanine and a library, based on the large steel beams. Bookshelves are built with old oak beams.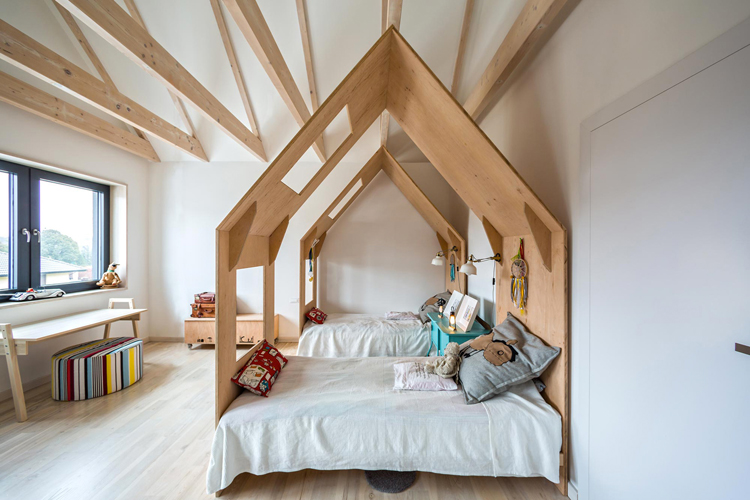 all images © Marcin Ratajczak
Comments
comments