BIG-Bjarke Ingels Group has unveiled the design of its hyperloop one autonomous transportation system, which would connect the UAE cities of Dubai and Abu Dhabi in just 12 minutes, instead of a two-hour drive.
"Together with BIG, we have worked on a seamless experience that starts the moment you think about being somewhere – not going somewhere," said Josh Giegel, President of Engineering, Hyperloop One. "We don't sell cars, boats, trains, or planes. We sell time."
All elements of the travel experience are designed to increase convenience and reduce interruptions. The main objective of the design is to eliminate waiting from the passenger experience. Hence, the stations are called portals. All departure gates are immediately visible upon entering the portal, and a simple numbering system allows passengers to quickly identify them. Passengers will travel in pods that have room for 6 people. The pods are contained within a transporter, a pressure vessel attached to a chassis for levitation and propulsion that can accelerate the transporter to 1,100km/h.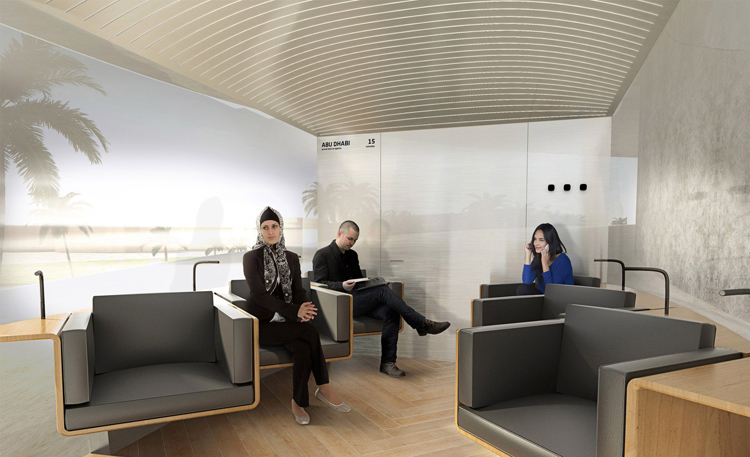 Passengers board the next pod that is available, which moves onto a transporter to their final destination. The relatively small unit-size of the pods paired with a high arrival- and departure-rate allows for on-demand travel. Different interior environments and seating arrangements offer passengers a travel experience tailored to their needs, whether travelling solo or in groups, for business meetings or casual trips.
The pods operate autonomously from the transporter, which means they are not limited to the portal area and can move on regular roads and pick up passengers at any point. At portals, pods are loaded onto the transporter and hyperjump to another portal, where they merge onto the street and drop passengers off at their final destination.
all images and video courtesy of BIG-Bjarke Ingels Group
Comments
comments